First look first impression! Home page is the front page or it can be a landing page of your site. It means if you open any sites the page it appears at first is the home page. That's why you should be creative and conscious while working on a it.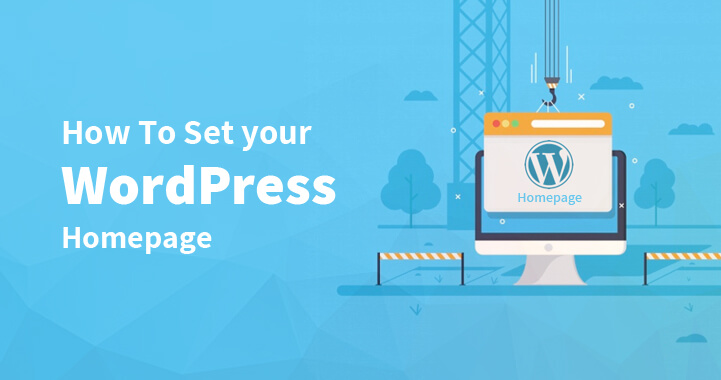 Well, there are multiple options to set the homepage on your site. But before that, you have to decide what to show on the front page. Do you want a page with static content or a list of your blog posts?
Display Homepage as a static page
Static pages are meant for more static, evergreen content. So, timeless content such as your 'About us' and 'Contact' information should be published as pages. As an example, for a non-blog website, your home page will have static content. And should be published as a static WordPress page.
To set the homepage as a static page, first of all, you need to create a static homepage from the WordPress dashboard.
Go to Dashboard>>Pages>>Add New.
Add title, content, images, or anything you want to show on front page.
When completed, hit Publish.
Display Homepage as a blog posts
Is your site related to blogs, news or magazine? if yes then, you can set homepage as a blog. It will show the most recent articles (or news) when visitors visit the front page. Your front page will be full of articles, blog post news, or anything you have created.
How to Create a blog post? Without creating any blogs how can your website display blogs.
Go to Dashboard >>Posts>Add New.
Add blog's title, content and hit Publish.
Set HomePage from Setting
Do you want to change the front page from admin panel? Well, for this, you can follow the following steps.
Go to Dashboard >>Setting>>Reading>>Your homepage displays.
Choose between Static or Your latest posts.
If you click on Static Page select Homepage on your preference.
Select Posts Page if you want to set homepage Your latest posts.
Click save.
Set from Customizer
From Customize section, go to Homepage Settings you will see two options. Your latest posts and a static page. You can choose what's displayed on the homepage of your site.
Your Latest Posts: This option only works if the Static Front Page is set to "Your latest posts." This option allows setting the title.
A static page: you will be able to set a page as Front Page and you will find the Post Page option as well.
Homepage: you can set any page as a Homepage.
Posts Page: you can set any page as a blog.
(To set the static homepage, your site must have at least one published page.)
Do you still have confusion on setting WordPress Homepage? Feel free to ask questions in the Comment section below. The following articles are recommended for reading for more information.
Thank you!
Tags: