You own a company, business, agencies, organizations, consultancies, right? who do not want their services to grow up globally! Yes, web hosting is an essential necessity for your site to run. Well, in a simple line web hosting is a storage place where our site's databases, files, and assets are stored. Web hosting is the service given to the individual and organization to access their websites. In another word, web hosting is the process of buying space for a house of websites.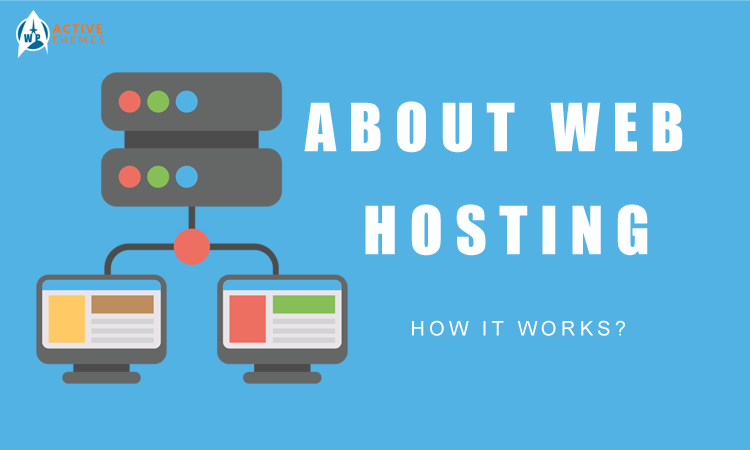 Web hosting providers or companies not only store but protects our sites from malicious attacks and also transfer our content from the server to visitors' browsers. Web hosting services are prepared and responsible for the amount of bandwidth required to keep the servers functioning and speedily. They take responsibility for maintaining, replacing and upgrading in need. Web hosting provider allocates space on a web server as per the hosting plan that you choose.
How does it work?
First of all, you need to host your website to run on the internet. When the web hosting company host your site, you then become able to type your domain name on their (web hosting companies) web browser. After this, their computer connects to the server your sites are hosted on. The server (A server is a physical computer that runs without any disturbance) resources like RAM, hard drive, space, and bandwidth are provided to the website to use it. The server serves the websites to your web visitors in their web browsers.
What are the types of Web hosting?
Our companies and business differ from one another. some of them are tiny and some are large-scale companies and enterprises. It means their need also differ from each other. The resources, budget, SEO traffic, and the type of your business decide the type of hosting you need. Here, we came up with the types of web hosting to help you to choose the right one.
Shared Hosting
Do you own a small business? Are you thinking of launching a small website with low traffic? If so, shared hosting is the best choice for you. It is cheap and easy to set up. It s best suited for small to medium-size businesses and for personal sites. Well, you may not know what actually shared hosting is. Shared hosting is sharing a single server to multiple sites. In shared web hosting many websites remain on one web server connected to the Internet.
Each user will have the facilities like databases, monthly traffic, disk space, email accounts, FTP accounts, and other addons. Moreover, Each customer gets a percentage of everything from CPU and RAM. Along with this, you will get access to the MYSQL server, Apache server, and mail server. It is also best for the one who is very unfamiliar with it because it is controlled and managed by the skilled professional of a hosting provider.
VPS Hosting
A Virtual private server (VPS) comes in between shared and dedicated hosting. It accesses more privileges' within the OS and allows users to install any type of software capable of running on that OS. Purchasing VPS hosting will give you full access to configure the VPS and you can work with the allocated resources and pre-installed operation system according to your requirements. You are provided with a fraction of the server's CPU, disk space, memory, bandwidth, and full root access. With it allocated time of CPU and memory are shared throughout all the accounts sharing the same server space. You have more control and it allows you to set up, maintain and run the server by yourself. There are two versions of VPS hosting: Unmanaged and Managed VPS.
Unmanaged VPS: Unmanaged VPS web hosting is cheaper than managed hosting but is ideal for experienced users. If you have the capacity for server maintenance and up-gradation it will be the best fit for you. Furthermore, you should have troubleshooting knowledge, administrative knowledge, and Linux command and server management knowledge. In a nutshell, you are a site owner and can take over managing various aspects such as installing software, monitoring security, setting site backup services, and so on.
Managed VPS: Managed web hosting is slightly expensive than unmanaged but ideal for beginners and non-technical users. The web hosting provider takes control over everything. They help with initial server setup, updates for OS and all applications. Additionally Managed VPS hosting provider works for security patches, monitoring for early warnings, signs of hardware failure, malicious attacks as well as automate the backups.
Dedicated Hosting
Dedicated hosting is a kind of web hosting in which a user has exclusive use and complete control over an entire server. It is more expensive and best suited for large-scale businesses and organizations. It comes with unlimited access, greater flexibility, high security, reliability, and best performance. Meanwhile, you need an excellent technical expert on hand to manage the whole platform or server. If you're launching high-traffic websites, website and business applications, content streaming, podcasting, machine learning, big data, storage, infrastructure virtualization, and game servers- a dedicated server is the perfect hosting for you.
We mentioned here 3 major web hosting available in the market. Besides these, there are some other web hosting that works nearly the same as the aforementioned web hosting. We will discuss them in short.
WordPress Hosting
WordPress hosting optimizes for WP. It enhances security for WP sites and comes with one-click installations. There are two kinds of WordPress hosting: Shared WordPress hosting and Managed WordPress hosting. Shared WP hosting is similar to Shared hosting and Managed WP hosting has added extra features like server catching, staging, faster loading, and security.
Reseller Hosting
It is white-label web hosting. Reselling hosting means sharing or selling the remained drive space and bandwidth to another party on behalf of a third party. For example, you host or purchase the hosting but the space you purchase is no more required or is enough to your site and you sell the remaining space to another user.
Cloud Hosting
It is like a hybrid version of VPS. It operates across many interconnected web servers that supply an affordable scalable and reliable web infrastructure. Cloud hosting allows providers to charge only for resources consumed by the user and offers additional resources on-demand.
Thus, We hope, it helped you to perceive information about web hosting and its types. It is your time to choose the best match and the right one for your business. If you want to know the best hosting companies of all types then read the article; Best Web Hosting Service.
Thank you for reading us!
Tags: